Visit the Prophet (Peace upon him) and the Kaaba with Sh. Bilal Dannoun. Yearly trips and sometimes during Ramadan!
Learn About Umrah with Bilal Dannoun
Alhamdulillah, All credit is to Allah who has blessed me with a dedicated, experienced and professional team offering a 5 star experience for Hajj and 'Umrah.
My team includes local and international scholars helping and guiding the Muslim community fulfil the rituals related to them.
Not only does my team facilitate Hajj, but also 'Umrah at various times throughout the year such as during school holidays and even in Ramadan.
This page will be updated with all of our upcoming Hajj and 'Umrah packages inshaa-Allah.
You will also find beneficial information related to Hajj and 'Umrah as well as the visa application and other useful information.
Please be sure to register your interest in joining us for Hajj or Umrah in the section below and one of my team members will be in contact with you shortly after.
Last Trip to Madinah and Makkah 25 December 2019 – 5 January 2020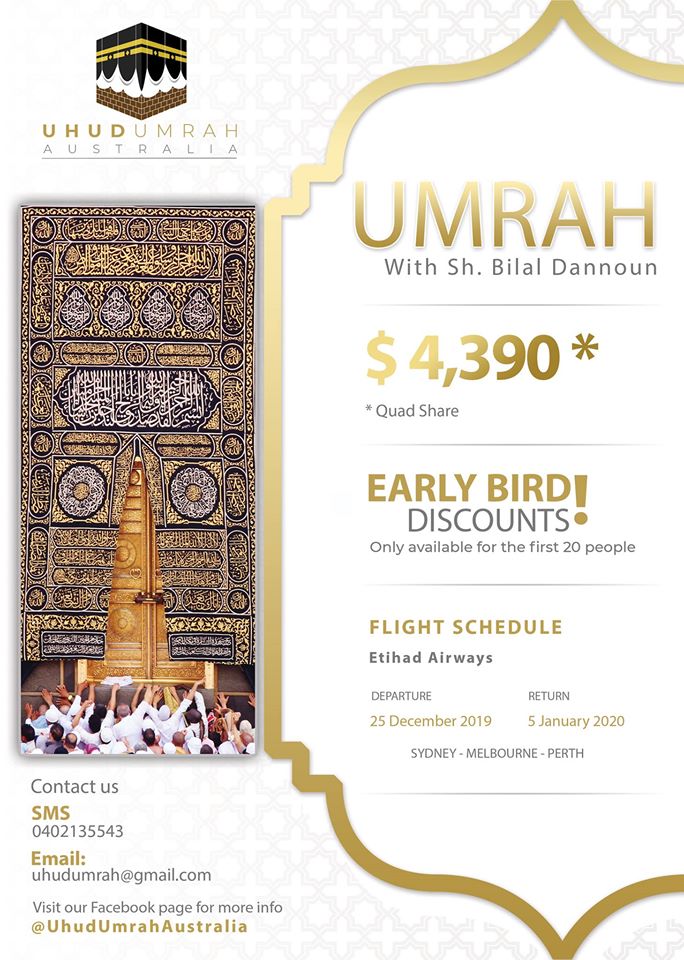 "We were blessed to find Bilal who was able to marry us with such short notice. As soon as we met with Bilal we were confident that everything would work out. Bilal tailored a ceremony to suit us that was professional, heart felt and humorous, exactly what we wanted. We can't thank you enough for guiding us through the paperwork and your calming caring influence at a very stressful time." ~ Many thanks Adam and Faten
Photos from Last Trip 2019/2020
Visit the holy cities, Makkah and Madinah, for a unforgettable and uplifting experience.